The tourism sector was one of affected cause of the COVID-19 pandemic, after one-year waiting, the most important international fair in Mexico, the Tianguis Turístico Mérida 2021, opens its doors to buyers and exhibitors from all the world.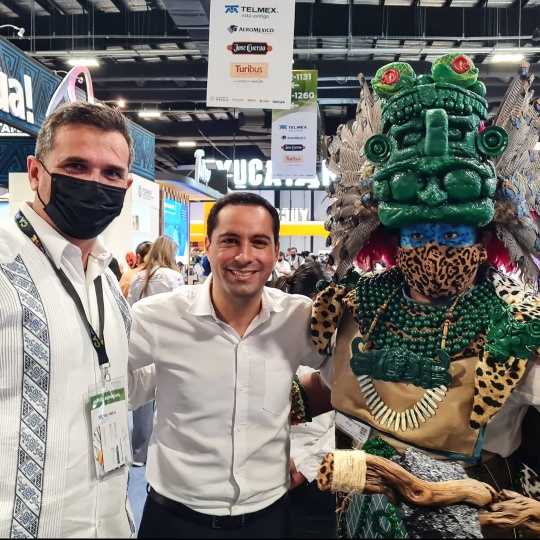 This event is the most important in the tourism sector in our country, since there are businessmen, hoteliers, travel agents, receptive operators, tour operators, meeting planners, as well specialized media from the tourism industry.
In addition, 1,390 buyers will be present, from 900 international companies, from 41 countries of the world, being so the most representative for the commercialization of the offer in the field of tourism in Mexico.
For his part, the Secretary of Tourism, Mauricio Arceo Piña, together with tour operators, travel agencies and folksy businessmen will carry out work appointments where they will expose the strengths of the nature ,cultural and tourist attractions, through out business appointments, creating alliances and selling their products in the national and international market.
Campeche delegation conformed with 57 people from 39 companies in the tourism sector, are participating in the 45th Edition of Tianguis Turístico 2021, which takes place at the Siglo XXI Convention and Exhibition Center, in Mérida, Yucatán, from 16 to 19 of November.
The State delegation is made up of Hotel Plaza Campeche, Hotel Plaza Colonial, Hotel Casa Don Gustavo, El sereno Travel and tour Experience, Campeche Dreams, Experiences Calakmul Campeche Country Club, Cabañas Zoh Laguna, Casa Zari, Hotel Uxul Kah, Hotel el Navegante , Hotel Gamma de Fiesta Inn Campeche Malecón, Hotel Holiday Inn, Hotel Baluartes, Hotel Francis Drake, Hotel Ocean View, Tucán Tours Dmc and Tour Operator, Tour Guides and Tour Operator, Kankabiók Tours, Tour Operator Edzná, Restaurant El Bastión, Vive la Legend, Hotel Siho Playa, Ka ´an expeditions, Hotel Chicanná Ecovillage Resort, Hotel Misión Campeche, La Playita Sabancuy, Hacienda Blanca Flor, Wotoch Aayin, Nara, Proeventos Campeche, Campeche Hotels Association, Association of businessmen of Calle 59 Historic Center, CANACO Campeche, Campeche Business Coordinating Council and municipal addresses of Calakmul, Carrmen, Palizada and Candelaria.
It should be stressed that in this event there is the opportunity for all the country with tourist destinations to show their offer to the world, represented in sun and beach, culture, adventure, nature, historical routes, colonial heritage, archaeological sites and world heritage sites. , which have led Mexico to be the country with the highest number of awards in Latin America and sixth worldwide.
What is Tianguis Turistico?

This is the most important event for the Mexican Tourism Industry and a Business Forum based on Pre-Scheduled Appointments between Buyers and Exhibitors
Merida, the city that will host the 2021 edition, invites you to participate in this highly professional event, where Mexico promotes a wide variety of Tourism Products that proves its exellence as a destination.
The City of Merida, in the state of Yucatan, will host the 45th Tianguis Turistico edition, November 16th – 19th, 2021. Merida nicknamed "The white city" due the common color of its old buildings features multiple museums, art, galleries, incredible natural sites nearby and amazing culinary experience and moreover the hospitality of its people.
Here are some features and numbers regarding the participants of this event:
Exhibitor
Independent Hotels and Hotel chains
Airlines
Ground Transportation Companies
The Tourism Authorities of the 32 states
Over 20,000 square meters
More than 600 Exhibitor Companies
Buyers
Tour Operators, Wholesalers, Travel Agents and Tourism Associations
Incentive Companies, Meeting Planners, PCO's
OTA's and Consolidator
Business Appointments
Over 40,000 Business Appointments
Don´t miss the opportunity to participate in this 45th. Tianguis edition and:
Get acquainted with the huge variety of Tourism products that MÉXICO has to offer at one time, under the same roof
Optimize your time using the pre-scheduled appointment system, which allows you to select the Exhibitors of your interest and prioritize your appointments
Make last-minute appointments through the ¨Instamatch¨ system either online or on site
Visit Merida and its surroundings.
Buyer Participation
More than 700 Buyer Companies
Countries from the 5 continents.
Translated by Patricia Rubio