…Cuba will be the guest of honor in this new edition of the multidisciplinary festival
…More than 500 artists from Austria, Argentina, India, Switzerland and various states of Mexico will visit Campeche to share their art
…Resident will offer a free concert before thousands of Campechanos and visitors in the Plaza de la República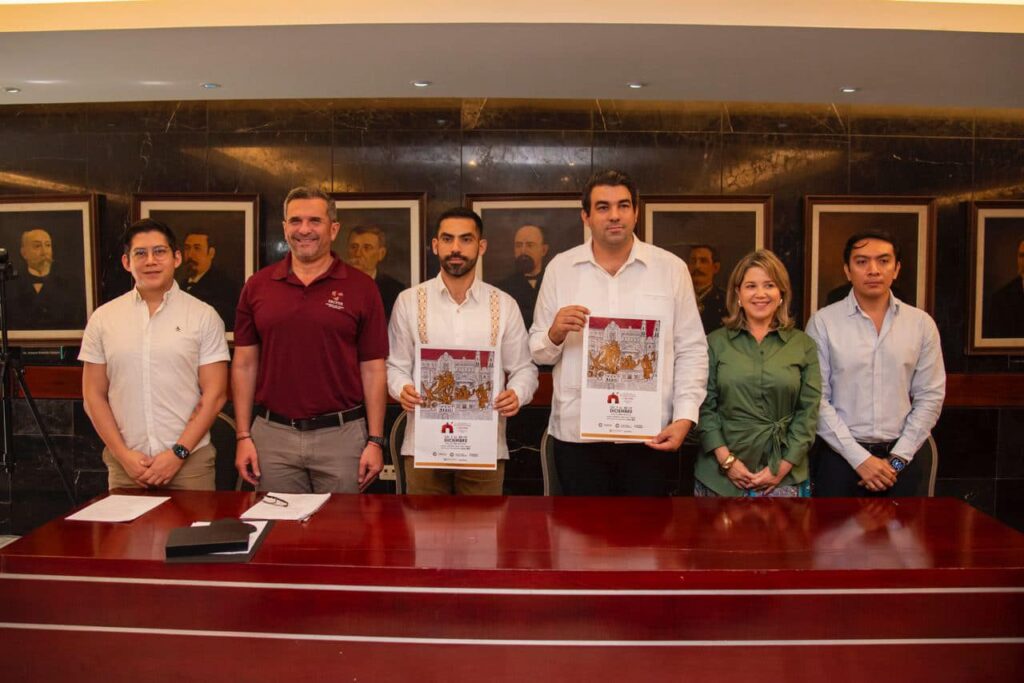 The Government of the State of Campeche, through its Institute of Culture and Arts, announces the billboard of the International Festival of the Historic Center of Campeche 2023, with more than 500 artists and the presence of Cuba as a guest country of honor. Theaters, public squares, emblematic sites and even the state's municipalities will be filled with art during the next month of December.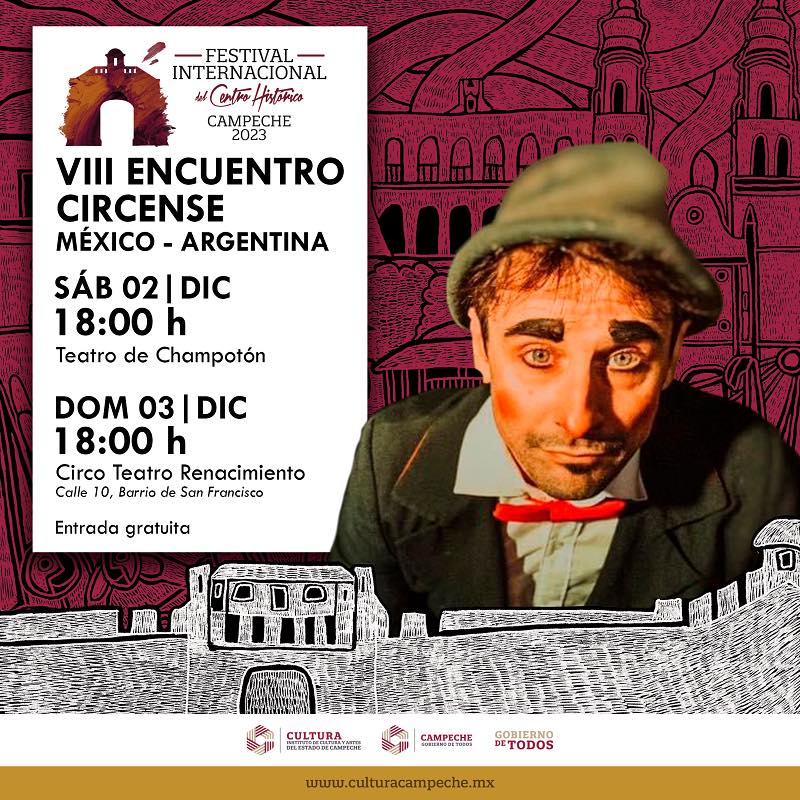 From December 1 to 20, nearly 100 free music, dance, theater, literature, film and plastic arts activities will be held, with concerts, performances, exhibitions and workshops; The festival will feature the participation of Switzerland, Argentina, Russia and India.
In a press conference held in the Governors Hall of the Government Palace, Esteban Hinojosa Rebolledo, General Director of the Institute of Culture and Arts mentioned that a surprise show has been planned for the start of the activities where more than 200 local artists will participate in the park. main center of the city, on Friday, December 1 at 6:30 p.m.
That same night, a Rock Tent will open the stage at 6:30 p.m. at the Fata Morgana Bar with local groups and bands. He highlighted that as a result of the signing of the collaboration agreement with the University of the Arts of Cuba and the National Center of Art Schools (CNEArt), Campeche will receive a large delegation of artists starting with the participation of Augusto Blancas, founder and exponent of the Nueva Trova Cubana, in the Parque Principal, at 7:00 p.m. And then give rise to the Barbería Jazz concert.
In his speech, the Cuban consul from the Yucatan Peninsula, Raisel Calvo Margolles, expressed that it is a pride to represent Cuban culture at the International Festival of the Historic Center of Campeche with more than a hundred artists and Casa Cuba , given the close ties that have always existed between the State and the Antillean country,and now, with medical collaboration in nine hospitals in nine municipalities of the entity, even sports collaboration. On behalf of the Embassy, the Government of Cuba and the companies associated with this work, such as Presencia Latinoamericana (Prelasa), he thanked the government of Layda Sansores San Román and the general director of Culture and Arts of the State of Campeche for the invitation to the great festival. The activities of the guest country will continue with the conference by the poet Fidel Antonio Orta, at the Campeche Library, on Saturday the 9th, at 10:00 a.m.; the Circus Gala on Sunday the 10th, with performances at 5:00 p.m. and 8:00 p.m. at the Circo-Teatro Renacimiento, as well as the participation of the Habana Swing orchestra, at 8:00 p.m., in Ciudad del Carmen, on 14 of those present. Workshops will also be held at the El Claustro Cultural Center from December 11 to 15, such as hand balance, acrobatics and juggling; construction and manipulation of puppets; the workshop: Cuban popular dances; Cuban percussion and trés, at the "José Narváez Márquez" Music House, all with CNEArt artists. At the Calkiní theater, on Monday the 11th of those present, the children's production La Colmenita will take place, which will also be staged in the city of San Francisco de Campeche on Tuesday the 12th, at the Circo-Teatro Renacimiento and on Wednesday the 13th, at the Hecelchakán City Theater; all presentations are at 6:00 p.m. The Nueva Trova Cubana arrives with Tony Ávila at the Teatro Toro, on Tuesday the 12th at 8:00 p.m., and the show will be replicated in Ciudad de Carmen the 13th at 8:30 pm
On Thursday the 14th he will be in Dzitbalché at 5:00 p.m.; in Hecelchakán, at 7:00 p.m.; and on Monday the 18th in Champotón at 6:00 p.m.; Seybaplaya, at 8:30 p.m., and in Campeche, at the La Chácara Children's and Youth Cultural Center, at 10:00 a.m. The Campeche Historic Center Festival 2023 will also feature the art of cinema with the screening of the film "Las Elegidas", by Mexican director David Pablos (director of the film "El Baile de los 41") as well as film workshops at the "La Arrocera" Visual Arts Training and Production Center, on Monday the 18th and Tuesday the 19th. Finally, for the Great Christmas Concert, from Mexico City, the Carlos Chávez School Orchestra and the Musical Development Symphonic Choir will arrive to perform Beethoven's Ninth Symphony, accompanied by the Campeche Symphony Orchestra (OSCAM), which closes "The Road to the Ninth", a series of galas that have been offered throughout this year in concerts that frame the path and legacy of Ludwig van Beethoven in music. A sublime concert that promotes unity and hope, premises of the Government of All headed by Layda Sansores San Román, who has given full support to a culture of peace, respect and inclusion. At the briefing meeting, Raisel Calvo Margolles, Consul General of Cuba for the Yucatan Peninsula, was present in the presidium; Mauricio Arceo Piña, Secretary of Tourism of the Government of the State of Campeche; Anielka García Villajuana, President of the City Board of Trustees; Francisco Estrada, President of the 59th Street Association of the Historic Center and Campeche Heritage City, and Héctor Cámara Mijangos, president of the Campeche Hotels and Motels Association. The complete program of the International Festival of the Historic Center of Campeche 2023 will be available in the coming days through www.culturacampeche.mx and through the social networks of Cultura Campeche